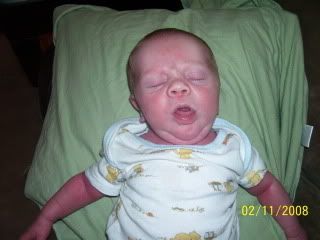 I just wanted to share a few pic's I took today. Nickie is now 2 weeks old
and the bottom pic is Noah my ds-9, and Isaac my 11 mos granbaby. I have been so busy the past 3 weeks and I just haven't had time to blog or anything else. My daughter Brittany has had some life threatning complications since the birth of baby Nic and we have had dr appointments every day for the past 2 weeks and Nicholas went to the dr last week with a blocked tear duct so it's been a busy time for me and I feel it.

I want to thank those of you who have prayed for us and I felt your prayers. I just started back to homeschooling today and boy it's been a challenge with 2 more babies in the house. Through this the Lord is showing me that it's all about HIM, and not me. I get my strength from HIM, I am now making chore charts, menu's etc to get more structured here so my life will run a little smoother. I feel we all need to get our home in order from the oldest to the youngest.

Yesterday we visited a new church, I have been praying for God's direction in this due to we miss our old church in north GA and want so bad to go back there but the Lord has been teaching me to be content in every situation. I need balance though with the 3 little guy's and my teen. I did like the pastor, he was a lott like Church Swindoll and very funny. My Zack liked the kids church so maybe this is where God will plant us?

I have many appointments tommorow so my blogging will have to wait until another day. I have enjoyed the extra time with the children the past few days as I was gone a week when Brittany had Nickie, I stayed with her the entire stay which was nice to be there for her. We're on our way outside for our nature walks.